Consumers are paying close attention to their health, and are increasingly conscious about the environmental impact of their purchase choices. 'Good for me, good for the planet' has emerged as a key trend. To help our customers meet consumers demand, Tereos proposes a wide range of stevia extracts suitable for many applications without reducing the taste experience.
A natural sweetener
The sweetening properties of Stevia Rebaudiana are due to its high content of steviol glycosides, present in its leaf. This natural calorie-free sweetener is widely  used in beverages, sports nutrition, confectionary, dairy food etc.
Our offering
For manufacturers, the race is on to formulate affordable products that taste good, contain clean label ingredients and deliver nutritional benefits. In a crowded and increasingly informed marketplace, products that boost sustainable ingredients offering health benefits will stand out.
Tereos new portfolio of stevia solutions provide tangible benefits in taste and affordability​. It also benefits from end-to-end integration and traceability from farm to product​.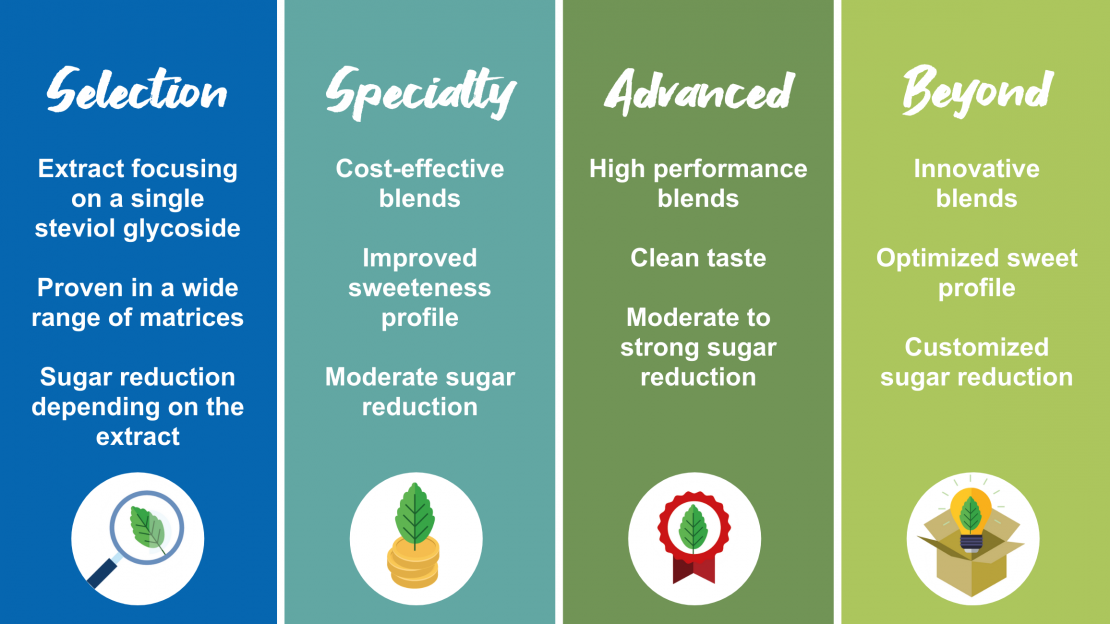 A complete (re)formulation expertise
You want to learn more about our offer? Discover our prototypes during a meeting with our team, this will give you an overview of what is reachable with what kind of ingredients in sugar reduced products. Contact us at: contact@tereos.com
+16%
Per year of new products containing stevia between 2016 and 2020 (source: Innova Market Insights)
N°2
After sugar, stevia is the best-known sweetening ingredient, and it benefits from a positive image and a perception of naturalness (source: 2021 IFOP European consumer survey (commissioned by Tereos)