News
How our fructose can be turned into "green" packaging
Green chemistry: Learn about the process of transforming our fructose into 100% bio-based recyclable packaging.
At the end of 2021, Tereos and Avantium Renewable Polymers signed a strategic supply agreement. The Group will supply 100% of the wheat-derived high-fructose syrup (F95) that Avantium requires to manufacture FDCA (furandicarboxylic acid). FDCA is a monomer that acts as a key building block for producing bio-based polymers such as PEF (polyethylene furanoate). This is leading to a gradual phasing out of petrochemical plastics, such as PET (polyethylene terephthalate). 
Tereos supplies the key ingredient in Avantium's sustainable packaging 
The agreement between the two companies currently provides for the supply of 5,000  tons of high-fructose syrup, known as "F95". This product is already listed in Tereos' product portfolio. It enables the Group to set itself apart from many competitors thanks to its excellent management of manufacturing processes with outstanding quality.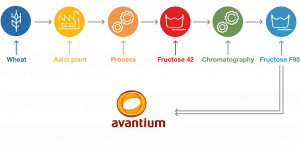 Avantium: A pioneer in the renewable chemistry sector 
After running a pilot plant, Avantium is building a new industrial unit for the manufacture of sustainable plastics.