News
In Connantre, Tereos inaugurates one of the world's largest wash houses
The new sugar beet wash house is up and running after a colossal site project. The result: improved competitiveness and energy efficiency.
"Connantre is a major agro-industrial complex," said Olivier Leducq, Director of Tereos Sucre Europe, at the inauguration on Wednesday 17 November. "Already a leading sugar plant in Europe, the site is further increasing its production capacity thanks to this new wash house with exceptional performance. Connantre is a pilot site for Tereos; the Group has invested heavily in it over the past ten years to accelerate the modernisation of processes and its energy transition. Digitisation, decarbonisation and energy optimisation are at the heart of this investment plan."  
As far as Connantre's overall performance is concerned, the old wash house represented a weak point, given its age. Commissioned for its first harvest in October 1975, with a washing capacity of 14,000 tons of sugar beet per day, the equipment has been expanded over the years to 23,000 tons.   
The wash house, essential equipment of a sugar plant
In a sugar plant, the wash house is the entry point of the sugar beets in the sugar extraction process. The quality of the washing depends to a large extent on the sugar beet processing capacity. More generally, the performance of the wash house has a direct impact on the three main value drivers: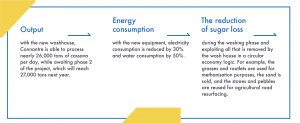 Launched in 2018 as part of Tereos' industrial performance plan, the installation project required meticulous planning management so that the new equipment would be operational when the 2021-2022 harvest starts. 100% made in France, the 32-metre long wash house was designed by the company Maguin and transported by road to be installed in the sugar plant.  
"We managed to meet this challenge in less than eight months, during a health crisis which did not make things any easier. Congratulations to the teams and our partners for this remarkable collaboration!" concludes Olivier Leducq.