News
La Perruche partners with Angelo Musa
The Pastry World Cup winner and Best Craftsman in France for pastry-making and confectionery becomes the ambassador for our premium brown sugar brand, la Perruche.

La Perruche crafts indulgence into art
Since its foundation in the 19th century, La Perruche has never faltered in its quest for excellence. Not once has it taken a break from writing the pages of its own history.
La Perruche's know-how has been carefully preserved since its beginnings in Réunion. The unique flavour of its brown sugars won it several medals at the 1889 Exposition Universelle in Paris. This outstanding recognition led to the birth of the La Perruche brand the following year.

Angelo Musa: A master of flavours
With the motto "capture taste through textures", Angelo Musa has won some of the most prestigious awards going, including the Pastry World Cup in 2003 and an MOF (Meilleurs Ouvriers de France — Best Craftsmen in France) award in the pastry-making and confectionery category in 2007. A true maverick, he is constantly redefining the boundaries of his pastry-making, drawing on his passion and expertise to create new styles. Musa is one of the central players who have helped to reinvent modern pastry-making.
His pièce de résistance is his Paris-Brest, in which he offers a new take on a very light mousseline cream, adding a chocolate praline layer for even more flavour.
Two signature recipes that epitomize the elegance and richness of French pastries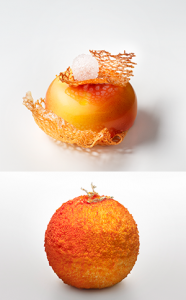 Let's talk about the recipes
100% la Perruche  
For Musa, it was only natural to pay tribute to La Perruche's over 100 years of know-how by using it in his signature pudding: the 100%.
"The Cassonade brown sugar is unsurpassed. It is triumphant in its strength. It is just asking to be enjoyed!"  
Orange-rum delight  
"A warm amber colour for a spicy vanilla marvel that is fresh and delicious, delicate and crisp."