Continuing results improvement
• Revenues of €2,975 million, up 35% versus H1 21/22 as a result of higher prices across all segments.
• EBITDA of €464 million, a substantial increase of 132% versus H1 21/22 thanks to the strong performance of our commercial and hedging strategies, which protected our margins amid a sharp rise in energy and raw materials costs.
• EBITDA over a rolling 12-month period confirms the positive trend, reaching €946 million in the period to September 30, 2022, up from €799 million in the period to June 30, 2022.
• Recurring EBIT of €266 million, compared to €32 million in H1 21/22.
• Net debt of €2,240 million, down €128 million compared to September 30, 2021 and down €146 million versus March 31, 2022 as a result of positive net cash from operating activities, which covered CAPEX and change in working capital.
• Debt leverage continued to improve, dropping to 2.4x from 3.5x at March 31, 2022.
• Gérard Clay has been acting as Managing Director in his capacity as Chairman of the Board of Directors following the previous Managing Director's departure on September 30, 2022. The Board of Directors confirms the continuity of the Group's strategy defined since 2021, which has delivered another improvement in results.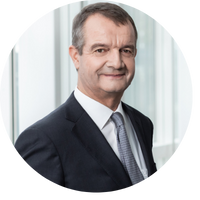 Gérard Clay, Chairman of Tereos' Board of Directors, commented:
"The interim results confirmed the strong operating and financial performance as evidenced in the FY 21/22 consolidated financial statements. Despite the current geopolitical environment, the strategic objectives set by the Board of Directors for 2024 have been met: The profitability of our operations rose, we generated positive net cash from operating activities, we lowered our structural debt significantly and we improved our debt leverage. A new high-performance management structure has been introduced following the transformation of the cooperative we launched two years ago. As a result, thanks to rigorous management of our energy requirements, Tereos reported on October 18, 2022 a price of €40.04/t @16 (excluding premium and field allowance) for 100% of the sugar beet delivered by cooperative members in the 22/23 harvest. Today more than ever before, Tereos stands ready to meet the decarbonisation and energy savings challenges that lie ahead."